5 Most Beautiful Varieties of Dianthus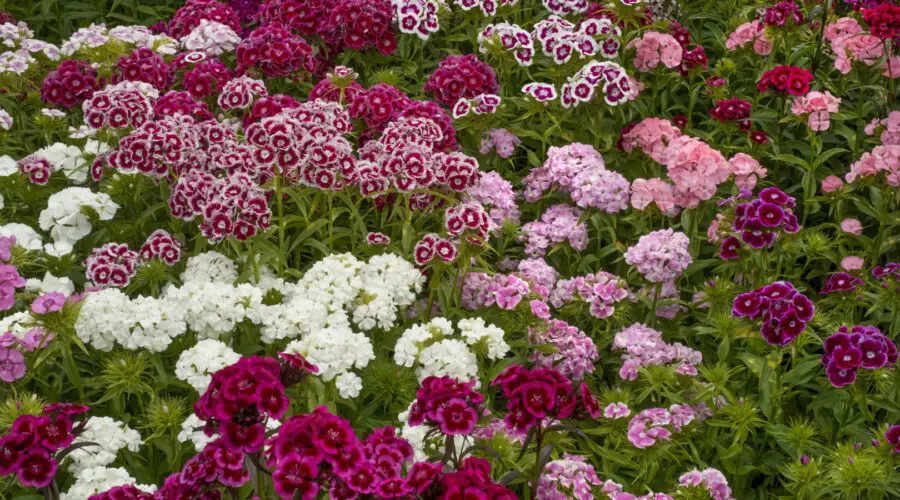 Dianthus flowers are one of the gardeners' favorites because they are so cheerful and easy to grow. Literally translated as the "heavenly flower", Dianthus is exceedingly beautiful with various brightly colored blooms on each variety. Out of the over three hundred species and countless hybrids, we have discussed some of the five most beautiful and popular varieties, their characteristics, uses and other details that are considered useful for interested gardeners and farmers.
1. Dianthus caryophyllus (Carnation or Clove Pink)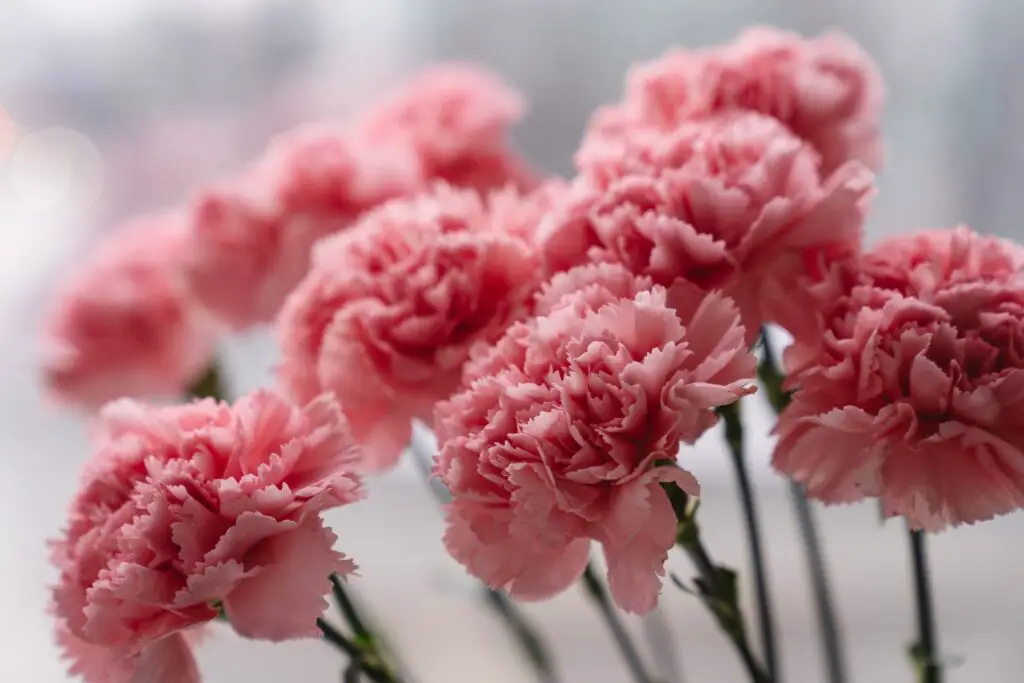 This variety is the most sought-after and preferred. Known as the "Flower of Gods", Carnation has a long lifespan and is much loved by flower growers.
The specific epithet "Carnation" comes from the Latin "corone", which means a "garland" or "crown", since the flowers were used to make ceremonial crowns in Greece.
Carnations are native to the Mediterranean region, but they've travelled far over the years and now you'll will find them in gardens all over the world.
Typically pink, red, white and salmon, Carnations have a great tendency to thrive in humid areas. This explains why they do well in the southern countries.
Carnations are known to have medicinal properties, and are also used as an edible decoration in salads, soups and drinks. Their main use in gastronomy is as an edible decoration in dishes.
This flower is very popular in France. The French are known for appreciating and using the Carnation as a sign of romance, and they have found many unique ways to use these flowers.
Purple Carnations are the preferred funeral flower in France, but also in other European countries. Some believe that the word "carnation" is derived from "incarnation", indicating their Christian background.
Therefore, it is not surprising that Carnation is a national flower in some countries. It is the national flower of Spain, Slovenia, and Monaco, as well as the state flower of Ohio, United States. It is widely popular and grown extensively worldwide.
Carnation is an important flower crop grown in Colombia, since its location near the equator ensures a hot and humid climate year round, which perfectly caters to this plant's needs. The city of Bogota in Colombia produces most of the world's Carnations.
Carnation is the official flower of Mother's Day in many cultures worldwide, and one of the most popular wedding flowers.
Carnations are popular cut flowers and garden plants. Check out our article to learn more about how to grow and care for Carnations.
2. Dianthus barbatus (Sweet William)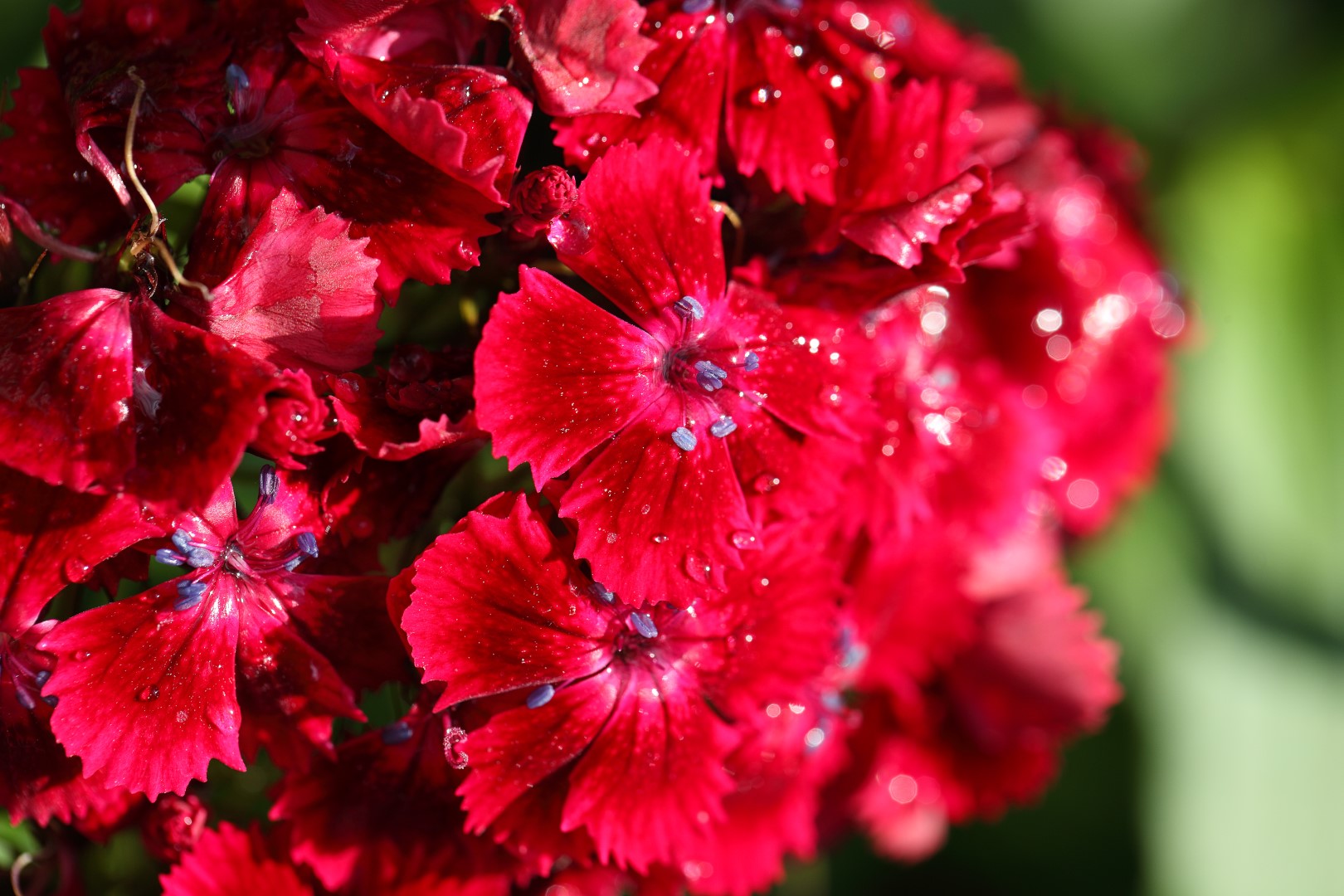 This sweet variety is native to southern Europe, but grown ornamentally around the world.
Sweet William is a biennial plant or short-lived perennial with rounded clusters and colors ranging from purple to intense red. It has many cultivars including dwarf and double-flowered forms.
It was named after William Augustus (1721-1765), Duke of Cumberland, the third son of King George II of Great Britain, known for his role in putting down the Jacobite Rising in Scotland in 1746.
The flowers are edible and are used as a garnish, especially in salads. They have a pleasant, spicy taste that will stimulate your senses.
This charming variety symbolizes gallantry in the Victorian flower language.
3. Dianthus chinensis (China Pink)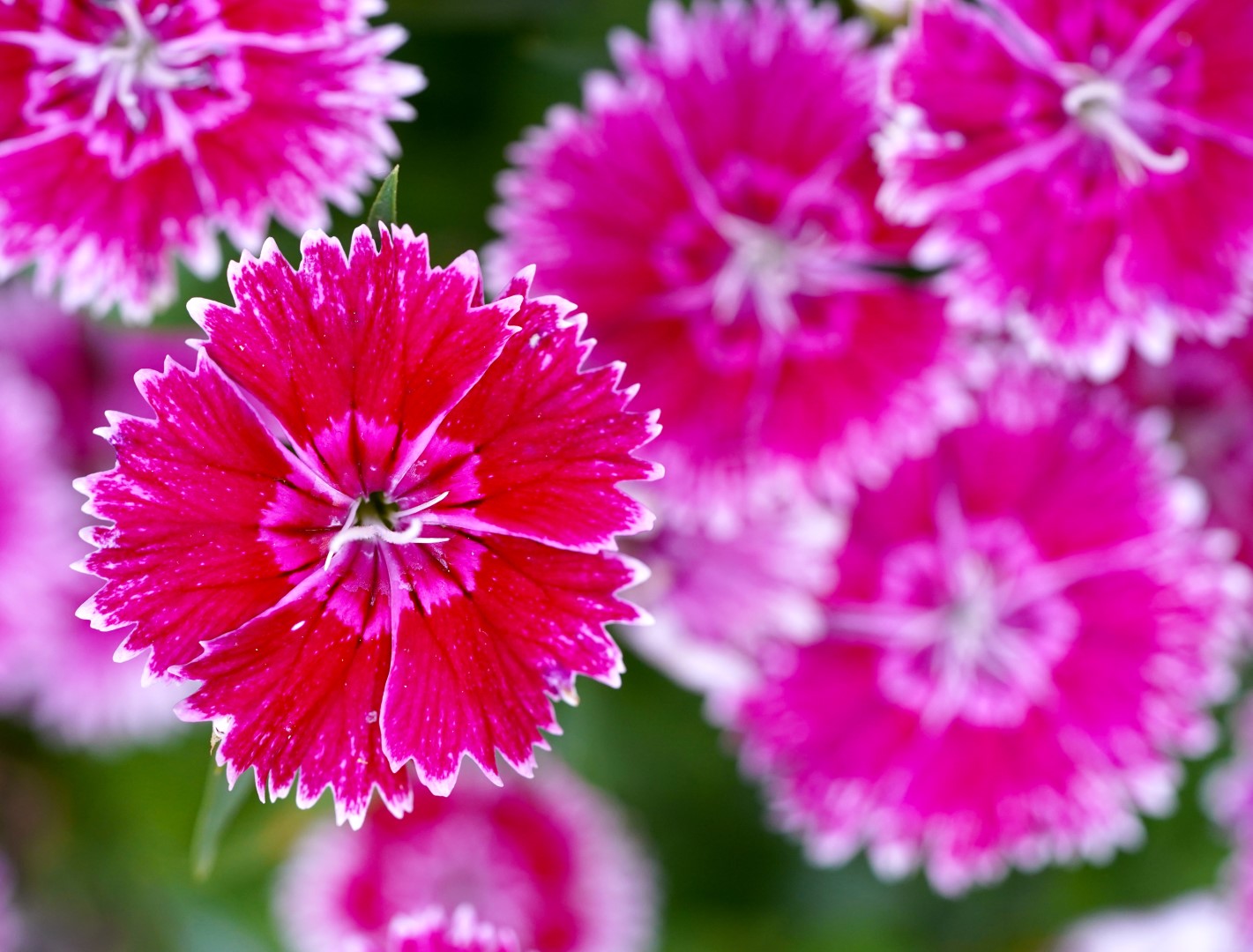 Dianthus chinensis, popularly called Chinese Pink, has beautiful and large flowers that come in a wide array of colors including white, pink, purple, red or a colorful combination of these colors.
The five-petalled flowers are often fragrant and are wonderful for attracting pollinators to garden spaces.
China Pinks are native to northern Asia where they thrive in forest settings, grasslands, dry hillsides, meadows and streamsides.
They are biennials or short-lived perennials, but are often grown as annuals.
Its history shows us that Chinese Pink has had immense uses in the Chinese culture as medicine for the treatment of several conditions. It has been used for over 3000 years in Chinese herbal medicine to cure ailments like acute urinary tract infections, constipation, menstrual problems, skin inflammations and swellings. The plant is useful for promoting healthy digestion and the dried leaves are used in promoting eye health.
They are most prized by gardeners in Europe and Asia, especially because of their association with divinity and love. They form a great addition to borders and flower beds, and thanks to their colorful blossoms, hummingbirds and butterflies find the flowers irresistible.
4. Dianthus deltoides (Maiden Pink)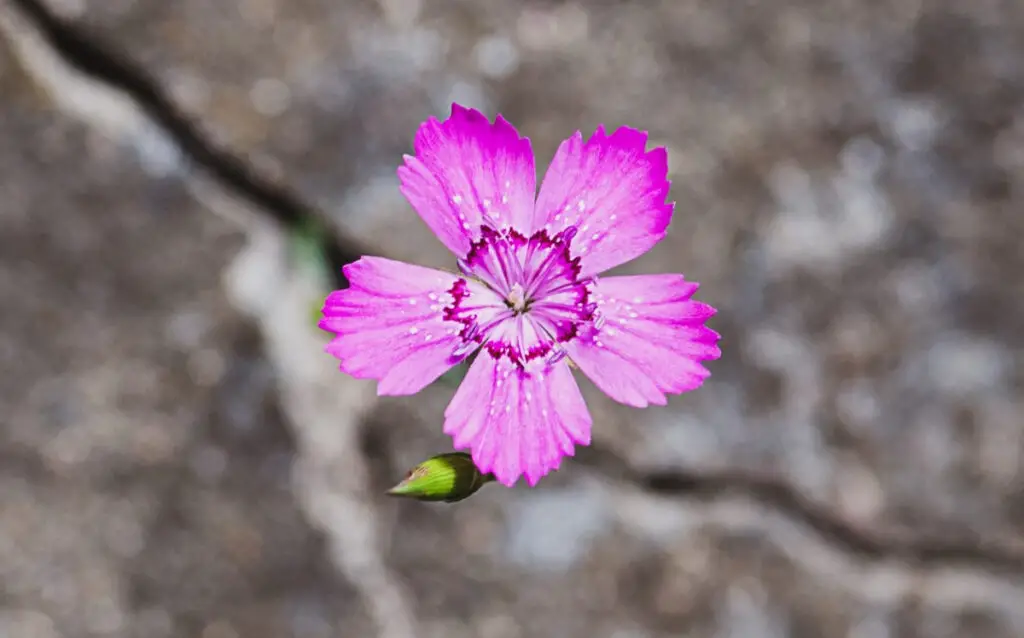 Dianthus deltoides, commonly known as Maiden Pink, is an evergreen perennial that blooms profusely in summer and late spring.
This variety is native to Europe and western Asia, but can also be found in many parts of North America, where it is now a popular plant in summer gardens.
Unlike other species of the genus, Maiden Pink is without fragrance, but still very pretty and unique.
The plant produces narrow, dark green leaves and small single flowers in shades that vary from white to deep red. The flowers are borne on branched flowering stems that send up short flower stalks. Each flower is composed of five petals, with a slightly darker marking near the base of the petals that forms a triangle on each petal and which gave the species its specific name – "deltoides".
This variety is adapted to butterfly pollination and is often visited by butterflies that play an important role in its pollination.
Maiden Pink is a great choice to decorate rocky areas of the garden, and looks nice in flower beds, too. It is easy to grow and very beautiful in bloom.
This variety is edible and has been listed as an edible flower in many reports. The petals are edible and used for decorating meals, but you should be careful when using them.
5. Dianthus plumarius (Garden Pink)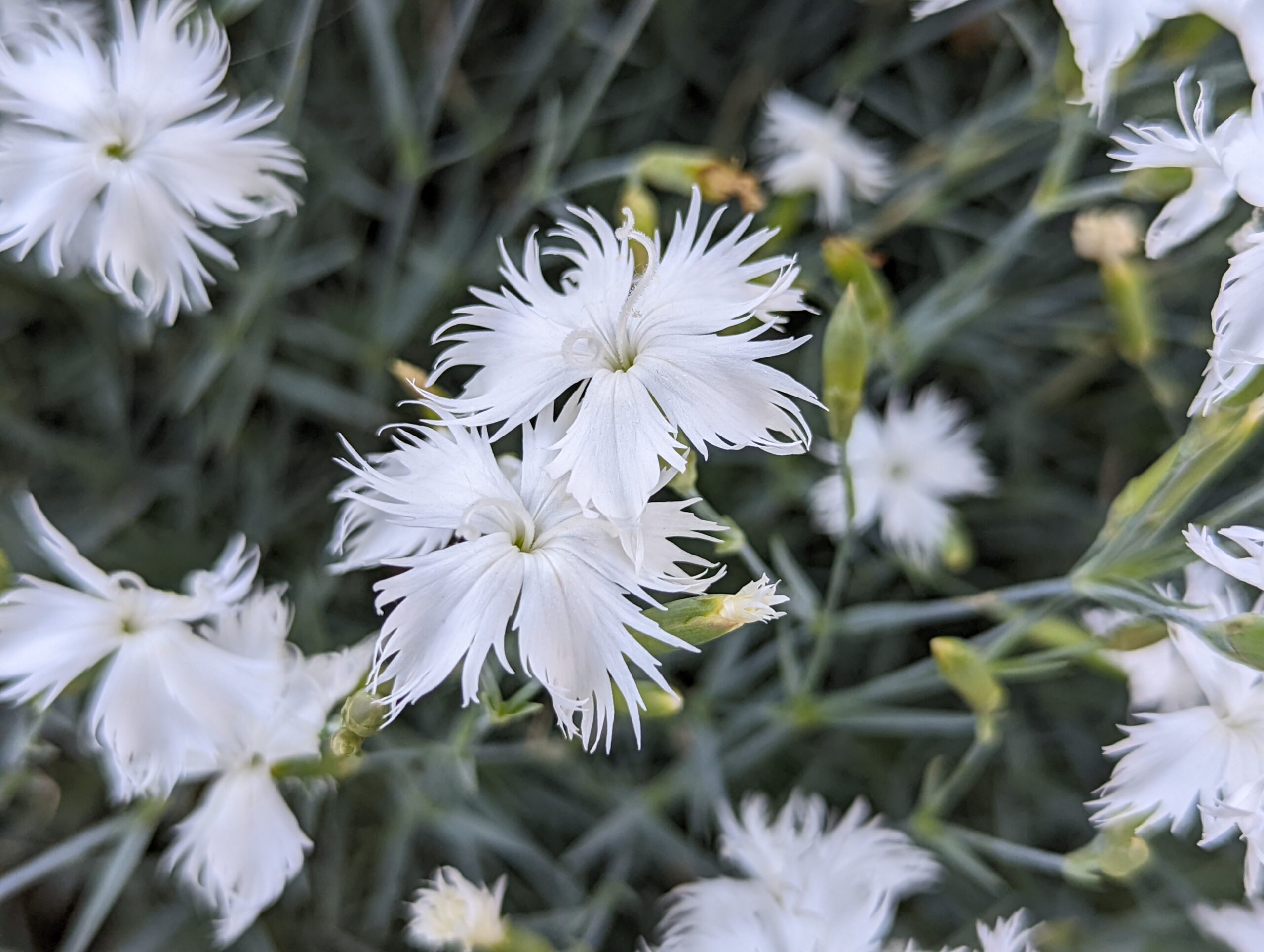 This evergreen perennial grows up to 40 cm (1,5 ft) tall, and usually starts flowering between June and August.
Dianthus Plumarius has many common names including Garden Pink, Feathered Pink, Scotch Pink, Wild Pink and Cottage Pink.
Garden Pinks are generally regarded as compact evergreen flowers suitable in rock gardens and rock walls, and as edging in garden borders.
Their delicate white, pink, purple and red flowers are also very beautiful in containers, where they will provide wonderful displays throughout the spring and summer months.
These flowers are consisted of five petals, with contrasting colors in the center of the flower, providing nectar in exchange for the pollination service. If you are lucky enough, they will attract bees, butterflies and birds to your backyard.
Many people grow them for their unique ornamental values, but also for their nutritive, culinary and aromatic properties.
Their petals can be made into syrups, vinegar, sauces and cordials. They have a very strong, clove-like fragrance with spicy notes, which add complexity and enjoyment.